Consulting
Our engagement methodology Infinigage ensures a meaningful conversation with executives and champions to deliver 'objective-to-pilot' in the quickest possible time. Our Argus consultants and visionaries have helped shape and execute the critical safety system strategies of many organizations.
We deploy our proven experience with several well-established safety systems, our intellectual methods and properties, and our substantial process knowledge to every engagement.
Our Argus evangelists will help you do the following:
Safety System Selection (Argus/ARISg/AERS)
Environments Setup – DEV/VAL/PROD
IQ, OQ, PQ Scripts & Protocols
Business Process Optimization
SOP Development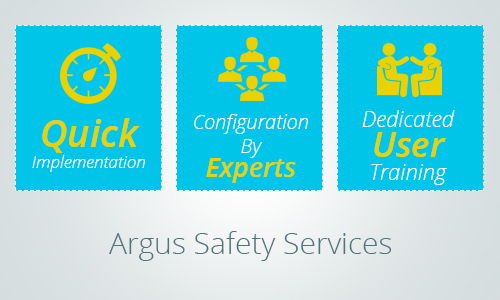 Upgrades & Migration
Our Migration method Infinigrate brings in a structured approach to migration from older safety systems (ARISg, Clintrace, AERS) to Argus, and thus inherently minimizes overall time and risk.
Transitioning from home grown or older safety systems is a lengthy and resource-intensive task.
We help you with:
Migration Services
Version Upgrade
Requirements gathering
Data Mapping
Data Verification
Legacy Decommissioning & Support
Implementation
Our Implementation methodology Argustactic ensures high quality installation, timely rollouts and reduced TCO.
Our wide repertoire of capabilities and methods with Argus Safety Suite always ensures successful project deliveries of any level of complexity.
Assessment & Gap Analysis
Strategy & Roadmap
Configuration – Basic or Custom
Application Support
Real-Time Monitoring