Sysfore stays ahead of the curve on new technologies that helps businesses modernize and migrate outdated systems. Our developers have the domain expertise on the latest software to help clients define the requirements for an effective modernization solution, or suggest best migration practices for a seamless transition.
Our team of experts brings you technology experience across on-site, mobile, web and cloud based platforms across varied industries. We perform work for hire services, which extends to any or all legacy projects.
With Sysfore's Application Modernization, you can go that extra step to improve longevity, usability, functionality and accessibility. We can also help you address issues such as high costs, technological redundancy, skills rarity etc to meet your new requirements on cloud computing, mobility and virtualization.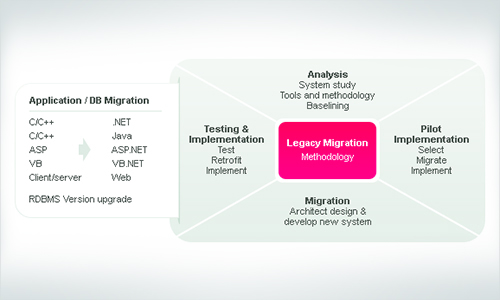 Sysfore application modernization services can help your business:
Better understand the applications, databases and processes that run in your data center today and map out a modernization strategy for the future
Reduce high infrastructure costs and streamline operations by re-hosting with minimal change to industry-standard platforms
Realize new initiatives and enhance agility by re-architecturing legacy applications to modern architectures such as Java and .NET
The Sysfore Advantage
IT TCO reduction and mitigation of legacy skills issue
Integrated enterprise applications
Ability to add new channel requirements with reuse
Exit from non-strategic and unsupported technologies
Ability to spend more on strategic initiatives, with a modernized portfolio
Preservation of critical business processes from legacy applications
Reduced application portfolio bloat, leading to simplification and standardization